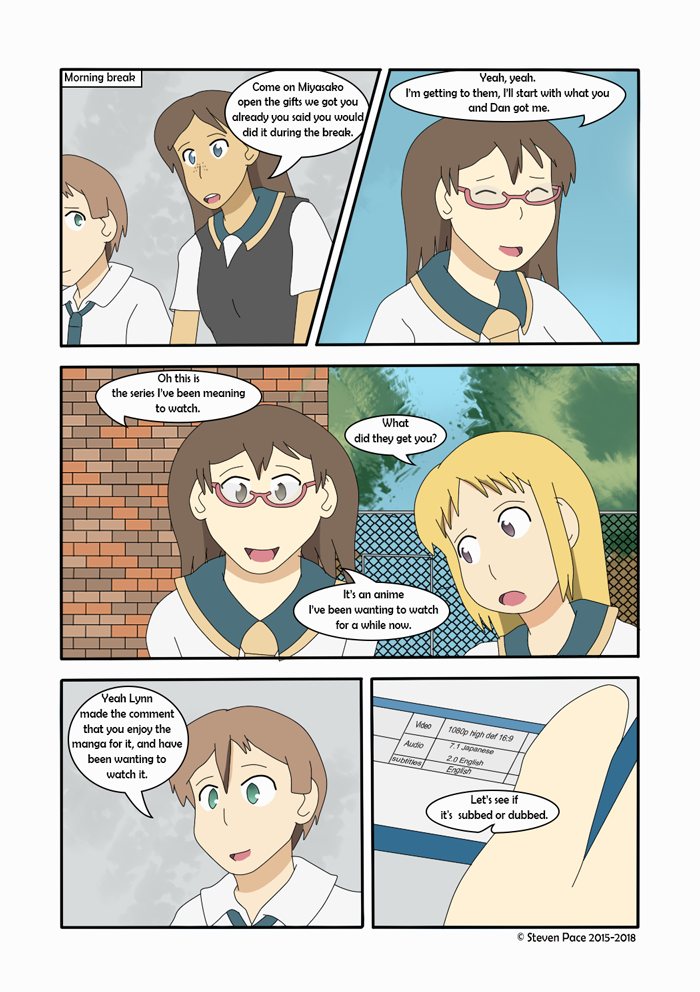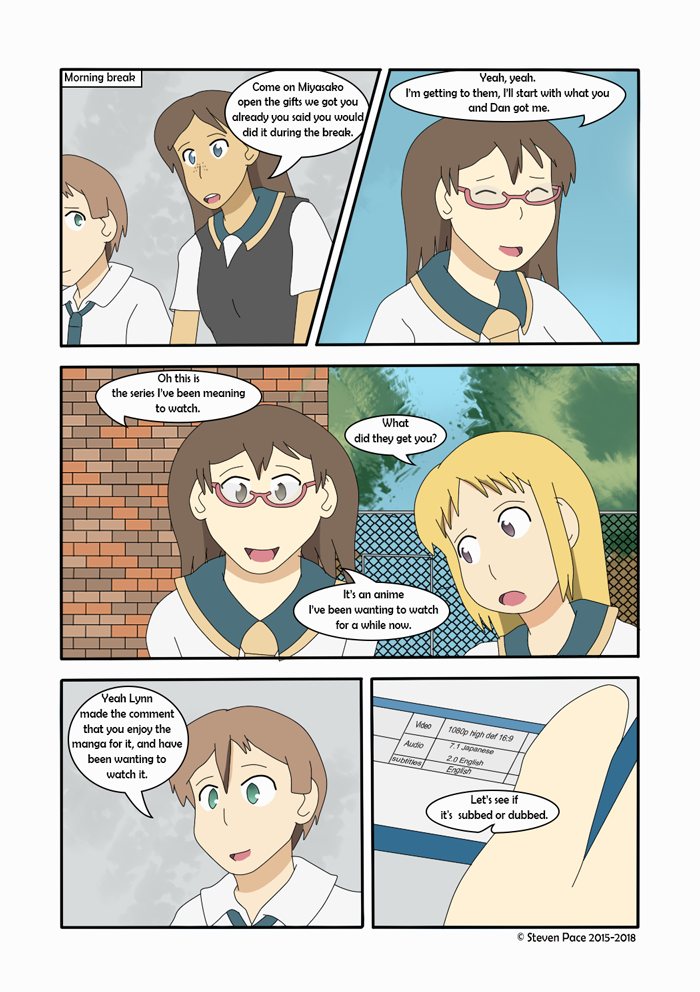 Watch
read left to right
I really like this page. It was a fun one to make.
Thanks for reading this update.
first: EOL - Page 1
Chap start:
fav.me/dchpcuu
prev. fav.me/dcjhxli
next: fav.me/dcjyr4k
---------------------------------
All comics, artwork, characters are part of 'Essence of Life'
Project Essence is copyright © 2015-2017 by 00Stevo (Steven P)
If you find any errors or typos please let me so I can fix them quickly.
confused about some thing see the FAQ at :essenceoflifecomics.com/fa…
disclaimer www.essenceoflifecomics.com/di…
for news about Updates you can follow my Twitter: twitter.com/stevenpaceing
Volume 1
www.lulu.com/spotlight/00Stevo
-------------------------

I'd make a joke, but I'm not sure what show Misako would watch. So here's a few just for variety.

RE: Creators-Come for the unique approach on characters coming to the real world, stay to have discussions with the fans about how to fix the plot and fuck Altier.

Legend of the Galactic Heroes-basically Japanese Star Wars, but with a bubbly eden thing, classical music, and a surprisingly hard-science approach to space battles.

Sakura Trick-Kissing. Lots of kissing. Like, 2 per episode, at least. Oh, and Sakura herself may or may not be autistic depending on your interpretation.

Twin Princesses of the Wonder Planet-Watch as two misfit princesses start becoming ladylike, try to win the heart of Prince Bright, and make the audience get to know the world they live in. Alsotheresaneldricthebominationthingsometimearoundepisode26butthatsnotimmidatlyevidentthefirsttimearound. Have fun watching.

GATE-How the JSDF is awesome, brought to you by the JSDF. Also, ignore the main character's harem, the real emotional attachment comes from the diplomat helping out a 12 year old who wants to marry him escape certain death via legal loopholes in the empire's land laws...really.

Star Wars-Watch as one family's drama essentially fucks the galaxy up.
Reply