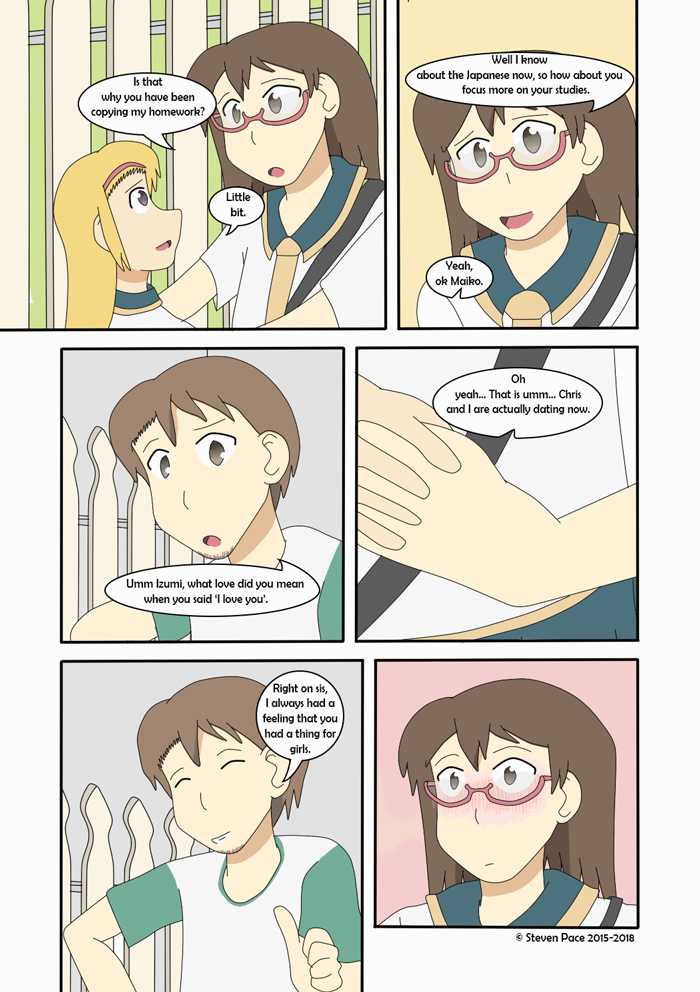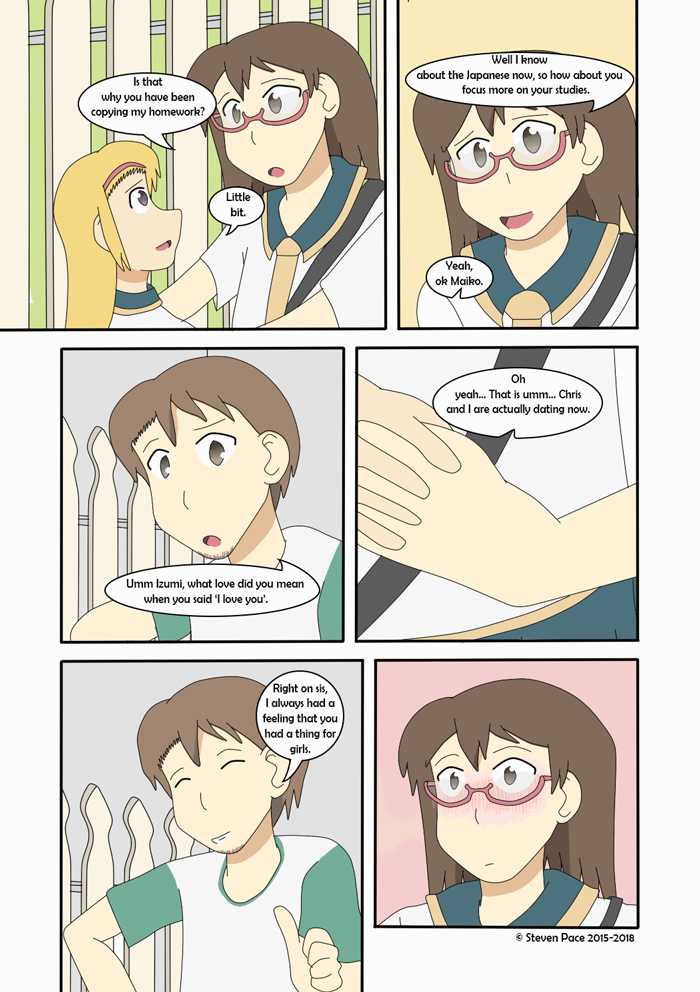 Watch
read left to right
You'll need a good memory, or have done a recent read though to fully get what Chris is talking about here. Way back on page 38, Chris made the comment that the 'real reason' she doesn't do her homework was because it was for Miyasako. This is the reason.

Thanks for reading this update.
first: EOL - Page 1
Chap start:
fav.me/dcev0xb
prev. fav.me/dcgdijt
next: fav.me/dcgukb0
---------------------------------
All comics, artwork, characters are part of 'Essence of Life'
Project Essence is copyright © 2015-2017 by 00Stevo (Steven P)
If you find any errors or typos please let me so I can fix them quickly.
confused about some thing see the FAQ at :essenceoflifecomics.com/fa…
disclaimer www.essenceoflifecomics.com/di…
for news about Updates you can follow my Twitter: twitter.com/stevenpaceing
Volume 1
www.lulu.com/spotlight/00Stevo
--------------------------

Roy: Though I thought something was up when you asked if you could borrow Sakura Tri-

Misako: NOT OUT HERE!

Roy: Okay, sheesh. (Never thought that Sakura Trick was that embarrassing...to me at least)
Reply

Truth be told. It hasn't turn up yet and I'm not sure if it will. But, Miyasako dose read some girl love manga. It's mostly just the cute romance stuff.
Reply

...so she actually reads Sakura Trick?
Reply

Reply

Oh.

...what does she read in that category?
Reply

I personally haven't giving it much thought as to ones she reads other then the fact that they are the cute romance and not the borderline sexual. But if you think of a few cute ones let me know they fit into the kind of yuri manga she would read.
Reply