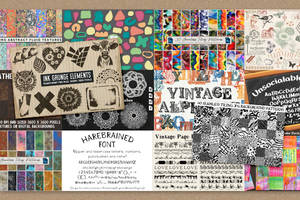 HG Designs Subscriber Area
Lots of high resolution goodies for graphic design including textures, photoshop brushes, seamless patterns and more.
---
Suggested Premium Downloads

Airplane brush set vol. 2.
Description
my 2nd airplane brush set

; they're bigger and better.
All brushes are KLM Boeing 747s from some amazing FS9 screenshots made by
again, thanks for these awesome screenshots!!

created in Photoshop CS3
resolution: 879-1244px
You are fully permitted to use these brushes; all I ask is to

it if you download it, give me credit and a link back to my page if you upload a work with them, and I'd like to see what you created, so if you'd like to show me your work, send me a note or leave a comment.

Also, feel free to leave comments here (both critical and non-critical

); I'd like to know what you think.
Thank you for using them!