Movie Poster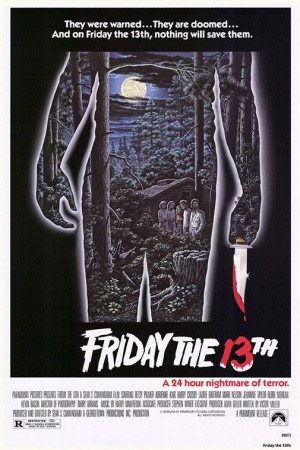 About

It's October and the sacred 31 days of Halloween are upon us-time to get your gore on! The chill is in the air, the leaves are on the ground, and Halloween candy has been out since Labor Day. So while you're waiting in the Starbucks line for an overpriced double pumpkin spice whatever, pass the time with this year's scary movies reviews!

Friday The 13th
(1980)
The producers say they were just trying to copy the success of 1978's "Halloween," with its simple (and built for low-budget) formula of "isolate high school kids and let a maniac chop them up." Cultural anthropologists will point out that maniacs Myers, Voorhees & Krueger materialized as the American zeitgeist was shifting from the liberal "60s" to the conservative Reagan backlash years. These "slasher" films were exploitative excuses to celebrate alcohol, dope, partying and bare breasts, yet at the same time they were condemning of such activities as deserving summary death sentences carried out by one of the three instantly iconic angels of death. American capitalist genius: condemn sinful activities, but make the condemnation itself maximally profitable.
The movie itself is a rollercoaster ride through the woods of newly reopened Camp Crystal Lake, scene of the unsolved murders of two fornicating camp counselors many years before. One by one the new crew of fornicating, dope-smoking summer camp counselors is killed off by a maniac seen only in quick flashes. That's basically the whole story. But the Jason story has become such a classic fable by now that I'm probably not being a "spoiler" to reveal that the only twist is the original killer from F13(#1) is Jason's mother, who gets beheaded by the sole survivor. Jason's "shock ending" appearance, popping out of the lake to attack the survivor in her rowboat, was an after-thought not in the script. Make-up man Tom Savini had just seen "Carrie" with its last second shocker in the denouement and so "homage" was paid. Jason himself would show up as the unkillable romper-stomper who returned again and again throughout the '80s, went to Hell in '93 and into outer space in 2001. "Built in America" – nothing runs like our profitable cinematic maniacs.