Charles M. SCHULZ & Charlie Brown
Peanuts was the King of the Newspaper Comic Strips, its 17,879 4-panel strips running from 1950 until the death of the author/illustrator/creator Charles M. Schulz in 2000. Along the way there were the collections of reprints in paperback editions, the TV specials that have become annual holiday staples for several generations and two Peanuts-based Broadway musicals. That's all very impressive, but what's truly amazing is, that in this age of superheroes, the star of Peanuts, the longest continually running saga in U.S. history, is Charlie Brown, a born loser of a little boy with very low self-esteem.
Why did this "anti-hero" story become such an All-American phenomenon?
The 1960's was the Golden Age for Comics, in both newspaper strip and comic book forms.
Charles Schulz perfected the "4-panel gag strip," originally imported from Japan, making "Peanuts" the formulaic template for the majority of newspaper strips. But the real revolution that Schulz was quietly contributing to was the radical change in social relations and assumptions going on in America at the time. The thoroughly likable kids whose stories he told lived in an extremely progressive environment for the times, never alluded to or commented on in the strip. It's simply presented as unremarkable that Charlie Brown's baseball team had three girls on it. (The most overtly political the strip ever got was in the "Charlie Brown's All-Stars" TV special in which Charlie turns down sponsorship for his team to play in a real little league because the league wouldn't allow girls or Snoopy as players.)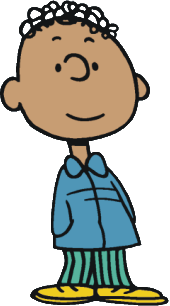 Franklin, a African American, was introduced into the neighborhood and its all white suburban school with no comment and no problems.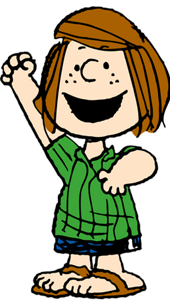 Peppermint Patty was introduced as an athletically-skilled tomboy, raising speculation about her sexual orientation.
---
The genius of Charles Schulz's Peanuts world was that either way, all of this was OK.
This casual rationality and goodwill toward all were the subversive sorts of "hidden" messages being imprinted in the brains of Schulz's kid-readers for at least forty years. The 60s Revolution wasn't only in the streets; it was right in the "Funnies" section of Dad's paper at the dinner table.
People usually decide whether to accept another person's ideas or attitudes based first and foremost on that person's personality and then on what they "do" for a living. If a person is likable enough and their job or main avocation is impressive enough—then their politics can be given some consideration. But only if presented in the most intellectually and confrontationally non-threatening manner possible. Like in the words and actions of child-characters in a daily comic strip.
How many of us over the years were changed for the better by having been loyal readers of Peanuts? That's the sort of revolution that really makes a difference in our world.
Your Thoughts
Do you think "Peanuts" did a lot more for teaching kids to live in a civil society than it's ever been given credit for?
Do you think teaching tolerance, non-racism, non-sexism, etc. works more effectively when it's simply shown in the example of beloved fictional characters, rather than shouted through megaphones in the streets? Or are both forms of protest necessary?
Which cartoon series, either on TV, in the newspaper or in comic books, do you feel had the most influence in shaping your earliest feelings and attitudes about societal relationships?
Would you rather be taught by the musings of Bugs Bunny, Batman, Superman, Peter Parker, Obi-Wan Kenobi or the Teenage Mutant Ninja Turtles – and why?