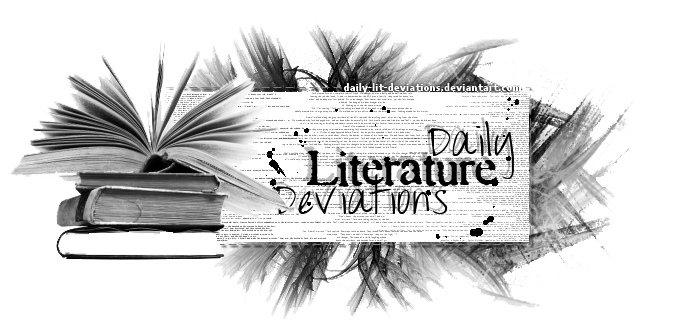 Guidelines
|
How to Suggest a DLD
|
Group Administrators
|
Affiliation
|
Chatroom
|
Current Staff Openings
Daily Lit Deviations for March 3rd, 2014
We are proud to feature today's Daily Literature Deviations!

You can show your support by

ing this News Article.
Please comment and

the features and congratulate the artists!

For all of the featured artists:
If you receive a DD for one
of your pieces featured by DLD please note thetaoofchaos.
We will include you and your piece in a special recognition news article.

Poetry
Featured by: TwilightPoetess

pleading perpendicularchance is the antithesis of importance.
things that matter
are sometimes defeated
by the immeasurable
and unpredicted.
it's nobody's fault. you and i,
we are a manifestation of circumstances.
i might have loved someone else
if i never met you
but i didn't
and that's
important.
two unparallel lines intersect
at only one point, so
let's spend a small eternity in this
flat location, because
we never will again.
it's nobody's fault.
lines just go.
rain just
comes
and sometimes we cannot help
but stand in the wet wet
naked or fully clothed.
there are things i cannot stop
and nobody comes home dry--
things always end a little too soaked
to come back quite the same.
there is nothing to blame but
the core of our coincidence.
of course i want
to be with you
but love knows nothing of hurricanes
who do not care who they destroy.
two unparallel lines intersect
at only one point,
and they keep going after that
for an infinity
we cannot calculate
mathematically
this is our only point,
statisti
pleading perpendicular
by
BittersweetObsession
This poem, by BittersweetObsession,
takes mathematical theories and merges them
with human relationships in a beautiful way.
Featured by:
hypermagical
Suggested by:
camelopardalisinblue

In Dark Silencea pile of exiled leaves
and a grief-stricken moonset
capture
the secrets of fireflies.
A stranger to gravity, sometimes
trees know how to be brave,
standing tall
where the stars collide.
In Dark Silence
by
TwilightPoetess
A seamless title poem
from a skilled poet.
Featured by: WorldWar-Tori

Empty Pages.You are the perfect story,
A plot unfurling from your touch,
And poetry in your eyes.
You speak with golden glory,
Into sentences of hate,
And promises of lies.
You are the book
I never had the words to write.
Empty Pages
by
Whyles
Sometimes we can never
find words, but they're there.
Featured by: SilverInkblot
<da:thumb id="337931572"/>
The Perfect Equation
by
Probl3matique
Proving that even number can
be poetic in creative hands, Probl3matique
writes a beautiful equation.
Prose
Suggested by: DailyBreadCafe
Featured by: Gingersanps

Eyes for an eyeHis father collected doll heads. Only the ones missing an eye.
He would have thought it scary, but he missed an eye too, and so it was very comforting to sit amidst those lacking little faces and see nothing but understanding in their lonely glass eye.
He was probably too young to ask himself where his father found so many dolls missing an eye and a body. Instead, he gave them names, and pretended they were dressed in clothes that turned them invisible.
"Everything invisible except the head" he would explain to his busy father.
For his father was busy indeed. He sat in front of the old greasy desk, sorting buttons of all shapes and sizes out. He put them into small boxes, packed them, then at the end of the day, walked to the tailor's boutique and exchanged them for a handful of dirty notes.
The rest of the time, he was outside collecting buttons - and broken doll heads.
And so he was left alone to play. Only with the fractured dolls, however; he was never allowed to touch the buttons.
Eyes for an eye
by
DeniseCroy
Suggester says: It's a
bit creepy, but it's good
For more information, including how to suggest a Deviation
to be featured, please visit us at
DailyLitDeviations
.
Thanks so much for supporting the lit community and this project!
~ The
DailyLitDeviations
Team ~
Prepared by: SilverInkblot