In an effort to turn the U.S. Economy around, Congress is seriously considering the cost–savings of merging Valentines Day and Halloween on the calendar.
Show us what this unholy merger of all things creepy/kissy might look like!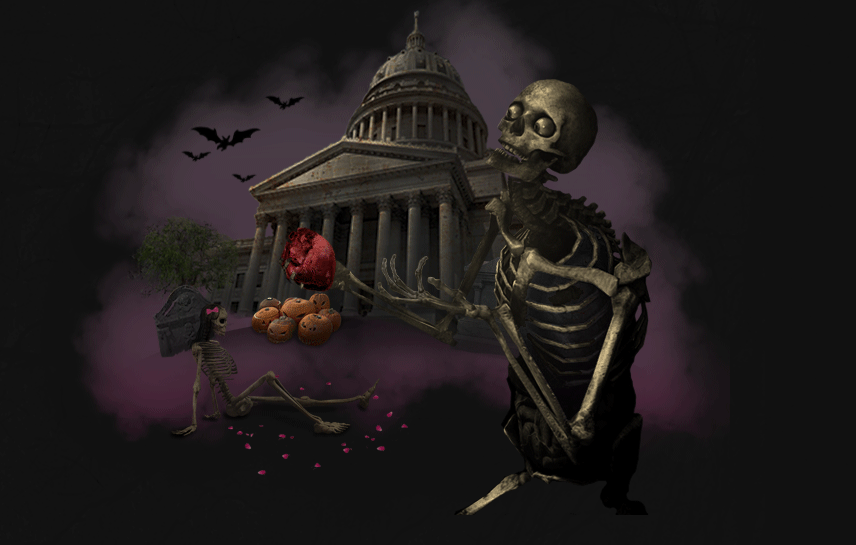 CNN Special Announcement:
As our slow–growth economy continues to grind on at its slow pace, the U.S. Government has found it necessary to institute necessary cost–cutting measures that may seem unusual. Economists, however, say the savings will be in the billions, if not trillions, of dollars if these "asymmetrical outside the box" measures are taken.
First up: The Merger of Halloween and Valentine's Day
These two holidays, while representing no major Judeo–Christian events and not the occasion for business, banking or school closures, have become twin generators of middle–class cash outlay and credit card debt accrual, second only to Christmas.
The government needs your help.
Artists of online arts communities, like deviantART, are being asked to help Congress decide on the feasibility of a Valentine's/Halloween holiday merger. Illustrated examples of Halloween–themed Valentine's day cards and Valentine's–themed Halloween artworks are being solicited, with the best ones to appear on the dR website all through the month of October until Halloween.
You have until October 20 to create your own Valentine's Day / Halloween mashup holiday. On October 25th we will showcase The Best of The Outrageous Best as a Stock Market feature on depthRADIUS!
POST YOUR SUBMISSIONS IN THE COMMENTS BELOW!
(Somebody please draw Wolf Blitzer turning into the werewolf we know he secretly is!) Superior short–short stories (1–3 pages) relating Valentine's–Halloween parties, darkly romantic dates, new traditions and revived demons will be published.
Poetry is sought—odes to the new holiday. Pictures of innovative Cosplay and other costuming reflecting the dual Valentine's–Halloween celebration are encouraged—as is photography capturing mysteries of both romance and sorrow in singular images.