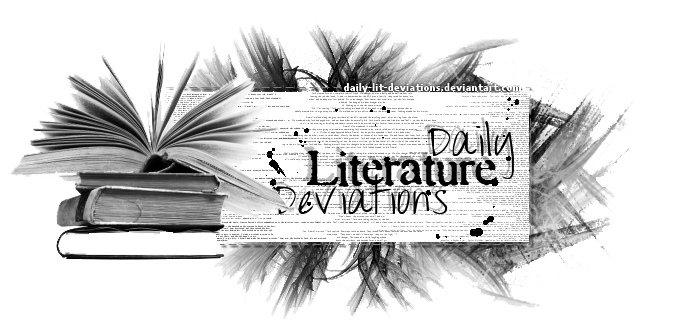 Guidelines
|
How to Suggest a DLD
|
Group Administrators
|
Affiliation
|
Chatroom
|
Current Staff Openings
Daily Lit Deviations for December 8th, 2013
We are proud to feature today's Daily Literature Deviations!

You can show your support by

ing this News Article.
Please comment and

the features and congratulate the artists!

For all of the featured artists:
If you receive a DD for one
of your pieces featured by DLD please note

`

thetaoofchaos.
We will include you and your piece in a special recognition news article.

Poetry
Suggested by:

=

Gingersanps
Featured by:

=

hypermagical

The NecklaceCliché Hallmark cards
Always start the waterworks.
Even at crowded restaurants.
To know.... it's a piece,
Of my Mommy Jean
Shaking, beaming, crying
As that slim white gold clasp
click... for the first time.
A feather's weight
Instantly at home on my collarbone.
***Fast-forward***

Hiccup-sobbing
Slit-eyes red and swollen
That pendant-spot between my breasts
Scratched and red
From shaking hands,
Grasping for anything to ground me.
Tremblingly closing that slim white gold clasp
click echoing with tears
***Fast-forward***
Heaving my duffel up my steps
And down the hallway,
To my last door on the right
Dropping it and a gasp
Hands immediately undoing
the circular clasp at my neck
Frantically grabbing the chain on my dresser
Breathing slowing as the heavier chain,
But lighter pendant comes to a rest
click and my breathing becomes regular
Sighing as I flop into bed. Home.
***Fast-forward***
Sighing nervously,
Self-co
The Necklace
by
*
WeirdAndLovely
Suggester: This is an amazing piece
of poetry, and it has such a powerful
story to it. Powerful with emotion.
Suggested by:

=

CelestialMemories
Featured by:

=

UnspecifiedUnknown

paint until there's only positive spaceI am the street artist; rough clothes and thin visage
you are the city, vivacious and loud.
Night after night, I find myself in dark places
spraying colours on your faces just to talk to you.
Have you ever tagged a train?
The art I envy is like you –
making waves at night to leave the landscape brighter in the day.
You are the cause I just want to connect with:
fresh, something different, something new.
paint until there's only positive space
by
~
dance-of-aquaiu
Per the suggester: "Love is an act and
lovers are acquired through work and self
expression--like art. This piece combines
these two similar actions to create a
beautiful feeling "
Suggested by:

*

alapip
Featured by:

`

thetaoofchaos

verbs.describe the state you were in when you made me want you.
use verbs. vivacious verbs in all the colours I love.
introduce, comfort, analyze, reduce, substitute.
these are verbs.
i know that's not how verbs work. but listen to me.
you are somniloquous.
you talked in your sleep.
describe me and see how far you get until
you start talking about me in your sleep.
use verbs. weeping verbs that dream when they are said.
the first two words in the definition of "consume" are
to destroy.
share, speak, involve, examine, consume, decapitate.
these are verbs.
describe to me what you were thinking when you said you
wanted to take me somewhere weird like Latvia.
use verbs. rioting verbs that make me fucking hate you.
you were occult to me.
supernatural. a phenomena.
the first two words in the definition of "silence" are
complete absence.
judge, uphold, execute, start, finish, decide, sleep. Leave.
these are verbs.
describe how you felt when you buried me.
use verbs.
verbs.
by
=
nighttimebeautiful
The well slated lists of actions hypnotize
the reader, bring movement and vitality to the poem.
Prose
Suggested by:

*

xlntwtch
Featured by:

`

SilverInkblot

Coming Back on a Day of Returning
It's amazing how wind can clear your perspective on life.
Walking out on my wife had been hard, but only because I couldn't take my daughter with me. I remember that I had to live in my truck until I got my next paycheck, and even then all I had was enough money to get a rented room. I still had to provide for my wife and child, and I had pay the mortgage on their house. I couldn't afford a place big enough for myself and Kelsey. And I'd lose a custody battle anyway.
I had sworn to myself that I wouldn't let the separation between me and Diane create a separation between me and Kelsey. But with two sets of living expenses to pay, I had to take every ounce of overtime I could get. Three months ago the foreman's position opened up. I took it because it meant a steady salary that kept me in the black, but the hours were long.
This week marked one year that I'd been out of the house, and I have been working like crazy
Coming Back on a Day of Returning
by
*
enigmaticsmile
Suggester: "A few days after tornadoes wreaked
havoc in the USA, the writer gives us a very good
tale of what happens when folks are literally
pounded by such a storm."
Suggested by:

*

madameshadowenn
Featured by:

`

SilverInkblot

Dear JamieDear Jamie,
I've not been able to stop myself from thinking about you all evening, ever since Grandfather came into the dining room, all red in the face and screaming about what you did. He slumped down into the chair to explain – you know, his chair, the one no one was allowed to sit in. You sat in it once, that week he'd gone away on business. You sat down in his chair at the head of the table, smirking at me. When he got back, Mary ratted on you and you got two whips of the belt for not knowing your place. You didn't cry though, and when you came out of the office, a slight grimace with every step, you whispered "doesn't matter, chair isn't even comfy."
He said you were on your way to spend Christmas with your girlfriend and her family. You didn't even tell me you had a girlfriend, even though we spoke on the phone last week – hushed, so that Grandfather wouldn't know. You told me outside of the house was like another
Dear Jamie
by
=
OHiNeedTea
Suggester: "I thought this was amazing. All
the little details included along the way just
build it into something incredibly powerful and emotive."
For more information, including how to suggest a Deviation
to be featured, please visit us at
=
DailyLitDeviations
.
Thanks so much for supporting the lit community and this project!
~ The
=
DailyLitDeviations
Team ~
Prepared by:

`

thetaoofchaos