Welcome to an article about eating disorders, aimed at spreading awareness, advice, knowledge, and support into the community.

What is an eating disorder?
There are many known eating disorders in today's world; anorexia and bulimia are the most notorious ones.
An eating disorder has to do with mental, emotional, and physical issues in regards to food and ones own body.
There is no perfect description of what an eating disorder is, however, because
every individual lives it in a different way
. The only important distinction I can make is that an eating disorder in many ways cannot be controlled,
it is an illness, and not a choice
.
"Eating disorders are serious, potentially life-threatening conditions that affect a person's emotional and physical health. They are not just a "fad" or a "phase." People do not just "catch" an eating disorder for a period of time. They are real, complex, and devastating conditions that can have serious consequences for health, productivity, and relationships.
People struggling with an eating disorder need to seek professional help. The earlier a person with an eating disorder seeks treatment, the greater the likelihood of physical and emotional recovery." (NED)

Anorexia Nervosa, Bulimia Nervosa, Binge Eating Disorder, and EDNOS are the main categories for separate instances of eating disorders.
EDNOS is a particularly important category, because it covers many overlooked disorders such as:
Atypical anorexia nervosa (weight is not below normal)
Bulimia nervosa (with less frequent behaviors)
Binge-eating disorder (with less frequent occurrences)
Purging disorder (purging without binge eating)
Night eating syndrome (excessive nighttime food consumption)
(NED)

How is an eating disorder diagnosed? And how do you treat or cure it?
Much like most illnesses, a diagnosis can be made by a doctor, however many are self-diagnosed.
It's a misconception to think that if you're aware that you have a problem, you don't really have one
. Someone suffering from anorexia does not have to be in denial about their eating habits and mental state, in order for them to "fit in" to the diagnosis. However, diagnosis has always been a controversial topic in regard to mental illnesses, because it's difficult sometimes to put a specific name to someone's burden, to try and fit people into cookie cutter molds, because that's not the way things should be, which is why there's been an increasing amount of different names for different types of eating disorders.
There is no "cure" for an eating disorder.
Treatment involves psychotherapy and medication among other things.
Treatment is most successful when it is started early, and when it is ongoing
. Relapse is extremely high in cases of eating disorders because most of the time ongoing care and therapy is the only way to control the illness. Oftentimes eating disorders are overlooked and patients are simply treated with anti-depressants or other similar medications, however individuals suffering from an eating disorder should not simply be given drugs and expected to be cured, that's not how it works. It's no secret that eating disorders can have deadly consequences, the trauma your body is put through is lethal. In all honesty, the treatment for an eating disorder involves an extreme amount of will-power, self-actualization, and fight, from the person suffering from one. You need support, doctors, nutritionists, family, friends, but you also need to want to be better, which is sometimes the most challenging part, because your illness can become comforting, and being "treated" can become a nightmare.
A few statistics for you:
In the United States,
20 million women and 10 million men suffer from a clinically significant eating disorder
at some time in their life, including anorexia nervosa, bulimia nervosa, binge eating disorder, or an eating disorder not otherwise specified (EDNOS).
Over one-half of teenage girls and nearly one-third of teenage boys use unhealthy weight control behaviors such as
skipping meals, fasting, smoking cigarettes, vomiting, and taking laxatives
.
The average American woman is 5'4" tall and weighs 165 pounds. The average
Miss America winner
is 5'7" and weighs 121 pounds.
Of American,
elementary school girls
who read magazines, 69% say that the pictures influence their concept of the ideal body shape. 47% say the pictures make them want to lose weight.
(NED)
Anorexia is the
third most common
chronic illness among adolescents.
40 – 60% of high school girls diet.

50% of girls between the ages of 13 and 15 believe they are overweight.

40% of 9 year old girls dieted.

Eating disorders research is very under-funded. The National Institute of Health allocates only 93 cents towards research funding for every person diagnosed with an eating disorder. In comparison, they give $88 for every person diagnosed with autism. This is painfully low. (Mirror Mirror)

Myths vs Reality
Myth: Only girls are affected by eating disorders.
Reality:
Boys and men also suffer eating disorders, an estimated 10- 15% of sufferers are male. Gender is seen as one of the many causes for eating disorders, however it is not restrictive.
Myth: Eating Disorders are about wanting to be thin.
Reality:
Eating disorders have a biological base and can occur in individuals that do not wish to be thinner than they are. Due to the fear of gaining weight that many eating disorder sufferers have, it is common for eating disorders to be mistaken for extreme dieting behavior.
Myth: People with bulimia always purge by vomiting.
Reality:
Not all bulimics try to rid themselves of the calories they have consumed by vomiting. Purging can take the form of laxatives, diuretics, exercising, or fasting.
Learn about dangerous methods of weight control.
-
Myth: People cannot have more than one eating disorder.
Reality: Many people have more than one eating disorder. It is very common for someone to suffer with more than one eating disorder. That just proves that the eating behaviors are only the symptoms, not the problem. - (Mirror Mirror)

Picture above from NED.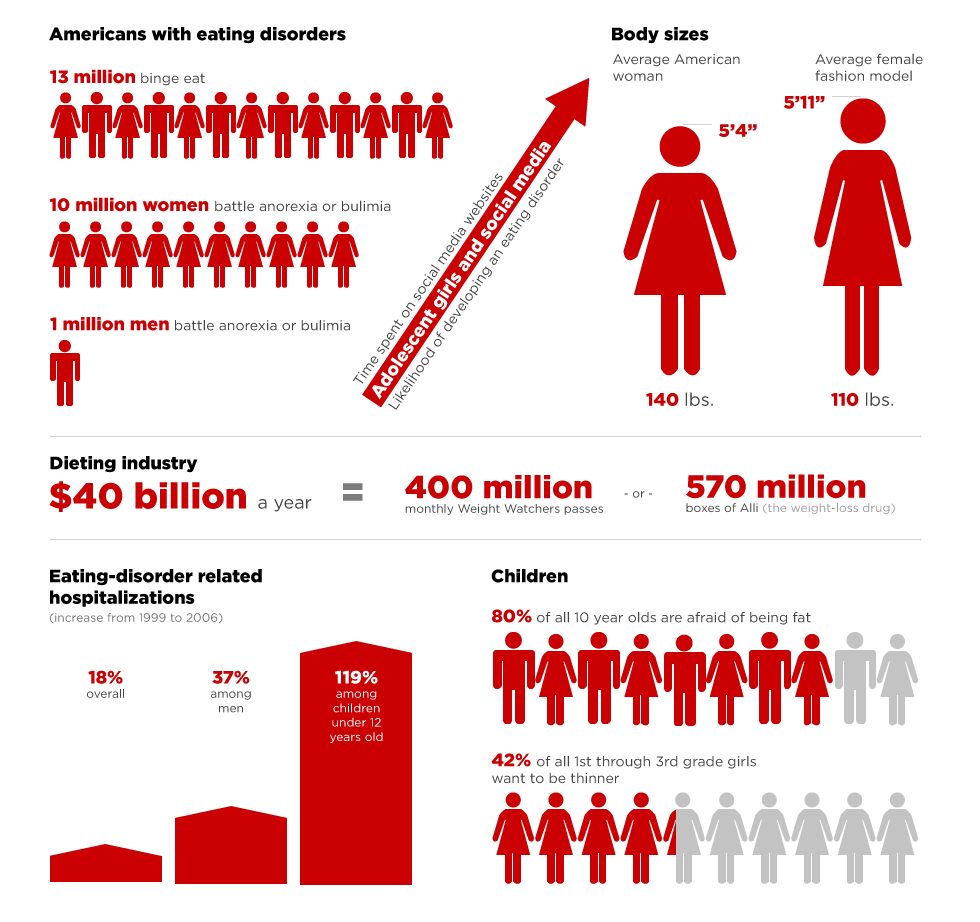 Picture above from CNN.
I cannot go into much more detail without this article become too long to keep everyone's interest, however if you have any questions, please leave a comment and I'll be sure to get back to you!
Stay tuned as I'll be posting interviews as a follow up to this journal!
Sources:
NED:
www.nationaleatingdisorders.or…
Mirror Mirror:
www.mirror-mirror.org/anorexia…
CNN:
www.cnn.com/interactive/2012/0…