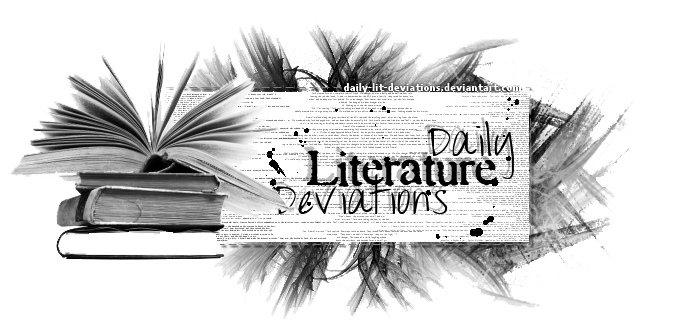 Guidelines | How to Suggest a DLD | Group Administrators | Affiliation | Chatroom | Current Staff Openings
Daily Lit Deviations for March 12th, 2014
We are proud to feature today's Daily Literature Deviations!
You can show your support by

ing this News Article.
Please comment and

the features and congratulate the artists!

For all of the featured artists: If you receive a DD for one
of your pieces featured by DLD please note thetaoofchaos.
We will include you and your piece in a special recognition news article.

Poetry
Suggested by: SCFrankles
Featured by: WorldWar-Tori

You Tell Me Things in Drips and DrabsThe game is a itchy foot,
watching blokes stumble around
playing Agatha Christie
—it's Dutch, isn't it?
Day-trippers and riff-raff,
adventures and boys on bicycles,
attractive slender woman:
pretty much what I expected.
The house is going through a tunnel
(I'll try my best to be less entertaining)
and they have facemasks like little furry burglars.
She's either counting oxygen molecules or analysing
this whole chunk of time,
running around buying Reggae CDs.
Go back to peddling soymilk and nailing waitresses,
bloody well toasted and ghosted,
that's what I'm talking about.
The whole Rastafarian culture,
about as long as I can stand,
didn't go to any trouble on my part.
Do I have to go with the whole cookie analogy?
Sometimes I shouldn't say words:
that was my point.
Yep, you're exactly like Jesus,
fighting for truth, justice and soccer mums.
He just looked so stupefied,
extremely taciturn, so secretive.
(You can't prowl i
You Tell Me Things in Drips and Drabs by BlakeCurran
Suggester says: A brilliantly witty piece
of found poetry, entirely made up of lines
from TV programmes.
Featured by: Carmalain7

The UnderstandingWhen I'm drunk or
you're drunk or
we're drunk
and uncommitted at the same bar,
we leave together,
sit and fiddle with beers
at your place
my place
your dad's place?
someone's place,
laugh at the dramatic-moment music
in movies made when I was three,
talk about my ex-
cat, how you got high and played
in the snow,
and you find the shower
eventually after a beer-chug
beer-spill
beer-ponder,
myself trailing, tiptoeing
into the jeans-and-boxers puddle,
placing my folded clothes on the sink,
slipping in behind
the temperature adjustment
from the fjord-freezing or lobster-boiling
you turned on yourself
and while you wash my back,
pressing the curves with longing
lazy, I rub the soap into your red-
blue diamonds
as if I want the ink to stain
my fingers and
you slip inside me like water
and I watch your legs
bowing behind mine
and think of birds
(I am too
short for this love;
you give up, laughing,
untoweled thin body dripping
on the comforter),
and you won't
The Understanding by oracle-of-nonsense
An aptly titled, well executed,
and imagery fueled narrative.
Suggested by: OHiNeedTea
Featured by: TwilightPoetess

Old HandsGrandpa was always the one to do things
-with his own hands.
He built his house,
our playhouses, tepees and dream castles
-everything-
with his own hands.
Age 70 he was still climbing our roof,
(the one of the real house)
repairing it,
with his own hands.
So the worst thing
the worst thing
the worst thing was
when he had to watch our hands
-we all had come to help-
tend to his beloved garden
while his hands could do
-nothing.-
The worst thing was
when he died
-on the inside-
saying
'I am so useless.'
And I wished,
and I wished,
&
From the suggester: Honest and heartfelt.
Prose
Suggested by: OHiNeedTea
Featured by: SilverInkblot

Bird In a CageHe didn't understand his attraction toward her; she had appeared merely a week before. She had a mysterious air around her. Of course, she never left the house. Something about her seemed off, yet he couldn't stop thinking about her. Hell, he jogged past her house every day during his daily jog hoping he'd spot her looking longingly from her window. Her light was never on, but he could see all her details. Her green eyes sparkled with curiosity. Her blonde hair bounced in curls. She dressed in white dresses; he had never seen her in any other type of clothing or color. Her skin was the color of a white sheet. He knew she had never been in the sun for long. He thought of her as something that was foreign to him.
She's a swan trapped in a cage.
A beautiful cage that she did not want to be locked in. He wouldn't deny her house wasn't gorgeous. The walls were made of brick. A wall of brick surrounded the property with an iron gate blocking his entrance into the brick palace. A white, woode
Says the Suggester: "Interesting and emotional."
Suggested by OHiNeedTea
Featured by doodlerTM

Decadence's Arrival

Decadence had finally come of age. 26 revs have gone by, and it is time.
"Mother Lilien, I feel so excited!" I had just blown out the sparkler 26 times, for 26 revs, and was somewhat out of breath. I started packing my things, wondering where I would be sent to. "Mother, did you get any indication of the location it would be yet?"
"My dear daughter, I probably have less of a clue about it than you do. Pack the way you see fit, darling." My mother is a strong woman, and an Earth controller. She can speak with animals and even plant life. Some times like this I wish she was a destiny reader or mind reader, even though that is only something for the Candy Elves, not the Shimmer Elves. I twirled my finger around the tip of my ear, then placed undergarments and my almost always worn outfit, luckily made self-cleaning by Magic skilled Elves.
I also packed up plenty of other things into my Storage booklet, the
Decadence's Arrival by BeadGCF17
on the world she creates in this piece."
For more information, including how to suggest a Deviation
to be featured, please visit us at DailyLitDeviations.
Thanks so much for supporting the lit community and this project!
~ The DailyLitDeviations Team ~
Prepared by: TwilightPoetess