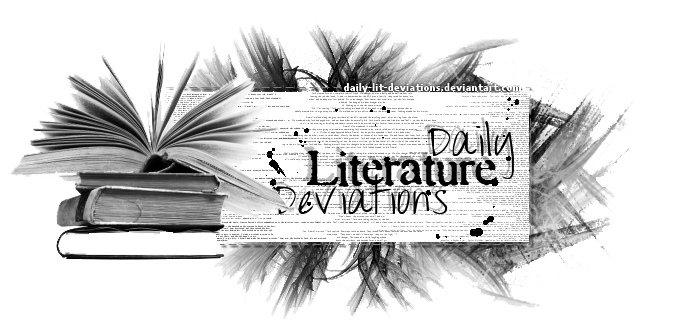 Guidelines | How to Suggest a DLD | Group Administrators | Affiliation | Chatroom | Current Staff Openings
Daily Lit Deviations for December 11th, 2013
We are proud to feature today's Daily Literature Deviations!
You can show your support by

ing this News Article.
Please comment and

the features and congratulate the artists!

For all of the featured artists: If you receive a DD for one
of your pieces featured by DLD please note `thetaoofchaos.
We will include you and your piece in a special recognition news article.

Poetry
Featured by: =UnspecifiedUnknown

Black hole BulimicThe Composition:
I birth poems — not amaranths
in graveyards — not gardens.
That reaper
sows seeds of doubt
which sprout
into skeleton weeds.
A farmer plucks the bones
from Apollo's hyacinth; his
scarecrow cackles.
I binge on broken
hourglasses—
cracked collectors of rocks,
of pebbles kidnapped
from barren beaches:
Collapsed sandcastles
where crooked kings
once conquered—now
buried in books whose
pages creak to crickets
in an abandoned abyss
of an attic—caskets on
an antiquated shelf. I
choke on the dust and
twitch in recoil.
The bickering sky
crackles, glitches.
A cloud coughs—
temporal hiccups
echo.
The clock's scythe hand
swivels to the beckoning
twelve. Spastic ticking—
each bleak stroke
of a midnight heart.
The sundials do not work
now. The vampires know
this.
---
The Decomposition:
I kill poems—
Black hole Bulimic by ~ChloroformBoy
this piece effectively unravels the role of time
and its invariable effects on the human condition,
rendered strongly by apt literary devices.
Suggested by: ~days-be-strange
Featured by: `TwilightPoetess

I'll Drink to ThatWrite me a cocktail,
Make it nice and strong,
Make it out of the memories
Hidden in the back of your mind.
Remember your dad walking out when you were nine,
And your mom crying on the kitchen floor.
Remember watching a butterfly
And wondering what you'll never know about it.
Remember becoming a woman
And learning that you were only good for sex now.
Remember the taste of her lip balm mixed with the rain,
And the feel of drenched hair under your fingers.
Remember black eyes and broken bones
And the "I Love You"s that put them there.
Remember hearing "the cancer is gone"
And crying tears of joy on your mother's gown.
Remember life
And how hard it can be.
Mix it with sunshine,
Just enough to remember why you're still here
And why this poet raises her glass
To hearts like yours baptized in ink.
I'll Drink to That by ~not-an-emo-girl942
This poem takes a well-known phrase...
and makes it into something unique and beautiful.
Featured by: =hypermagical

Shards-her heart was attached to a string,
being tugged along day-by-day and
she thought that maybe, it's been
passed one too many times and
burned
by the fires of every hand that's
touched the other end, even the
smallest whispers of a brush
have left the tips of her eyelashes
singed
and the string's lying abandoned
again, in the open space that she
might as well have been blind to
there's only so many senses she
can use before they're exhausted
only so many currents of emotion
she can allow herself to drown in
before her heart and it's shell are
in shreds
hanging like glass shards-
"Shards" leaves you wondering just how much
emotional stress anyone can take,
or even should take...
Prose
Suggested by: =doughboycafe
Featured by: `SilverInkblot

ShellsThe fucking psyches tell him to look within and all that bloody jazz, but it's all bullshit. He's killed guys, and that's the end of it. Guys, and girls, soldiers and civilians, until the sound of gunfire drilled into his head and out the otherwise and took everything in the way with it
It's like those stupid shells his mum showed him once when he was young. 'Course, he didn't think they were stupid then, but what did he know. Just a kid who had no idea what it felt like to hold a cold piece of steel in your hand that explodes in hotness and judges whoever's in front with a wham bam and kiss goodbye, say hi to God for me and give him the finger because I'm a murderer now and I guess I'll be having fun in hell thank you Uncle Sam. Sound like the sea, the story went. Like fish and sharks and shipwrecks and dumped human shit and everything, when all it really is is a couple of swirls of air and a gullible little ear.
Maybe he should just go ahead and turn himself into a shell with it's li
Shells by ~Treo-LeGigeo
Suggester: "I really loved this little flashfic.
Realistic and snappy!"
Featured by: =Gingersanps

The Seven Devils of ChristmasIt's almost Christmas; a time for family, traditions, making merry and goodwill to all men, right?
Wrong!
It's a time of stress and frustration as you're trying to get ready for the big day. So much to do, so many things to prepare and so little time to do it in, especially when you have to fit it all in around your job.
This is made all the more difficult due to there being seven devils hard at work, intent on making the run up to Christmas as difficult as possible.
The first one appears as soon as you decide to try and get ahead on your Christmas shopping. Your thoughts are to nip into town after you finish your shift and take advantage of late night opening, but this little devil thinks now would be a good time to make your car fail to start. Instead of running around the shops, snapping up bargains, you're left stuck at work waiting for the Recovery Service to arrive. Of course, since you're there, your boss will make sur
The Seven Devils of Christmas by *Created-By-Caz
This humorous story is one that all
that celebrate Christmas can agree on. I know I can.
For more information, including how to suggest a Deviation
to be featured, please visit us at =DailyLitDeviations.
Thanks so much for supporting the lit community and this project!
~ The =DailyLitDeviations Team ~