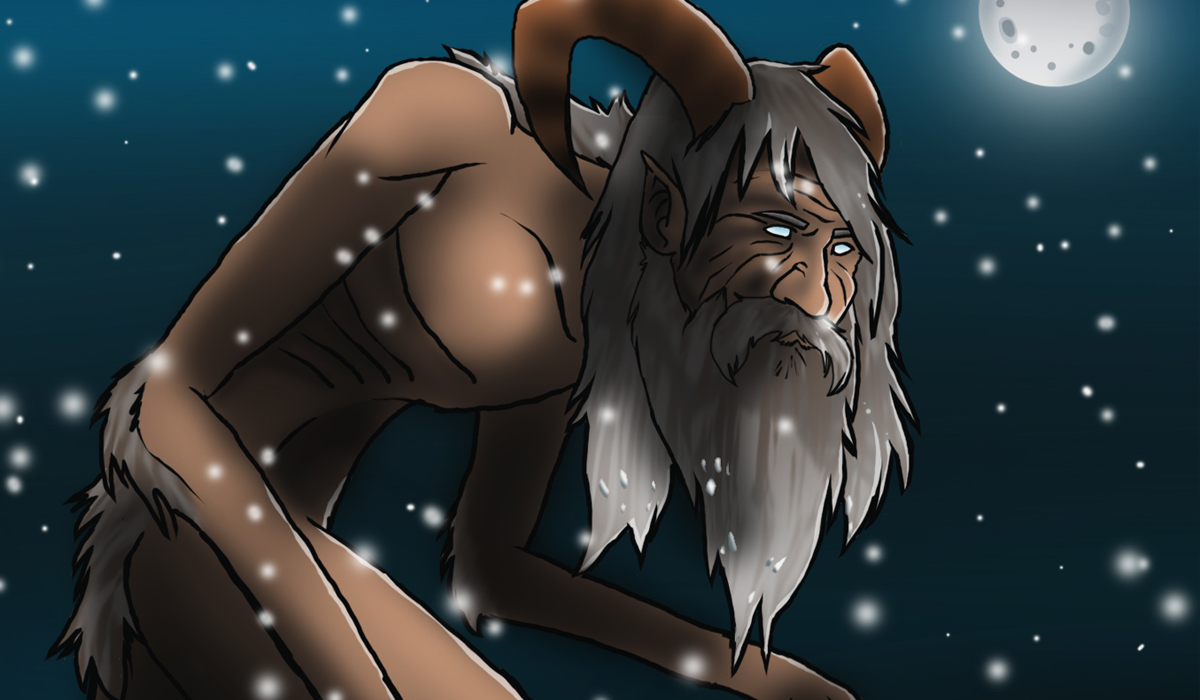 It's almost Christmas.
Are you, like me, beginning to get a queasy feeling from all the saccharin and sugar in the holiday movies you've been incessantly watching since Thanksgiving?
You started with "It's a Wonderful Life" and "Miracle on 34th Street," hit your stride with Ralphie in "A Christmas Story" and three different versions of "A Christmas Carol," and now you're shamelessly indulging in "National Lampoon's Christmas Vacation." Need something to balance out all the sugar and sweetness? Then the 2010 holiday treat from Finland, "Rare Exports: A Christmas Tale," is just the bracing shot you need right about now.
No fairy tale character has undergone quite the twisting evolutionary shifts that have transformed Santa Claus over the centuries. His origin is found in Nicholas, a sainted Greek Christian priest in Turkey with a reputation for protecting children and giving the good ones gifts. But saints fell out of favor in Northern Europe during the Reformation, so it was decided that gifts would be dispensed through "helpers." Nicholas was transformed into one of these helpers, who acted more like mob enforcers of the faith than benefactors of children. These "evil Nicholases" were thought to bullwhip and kidnap naughty kids. Tough love, indeed. This cruel "Santa" remained the model until the early 1800's. It was there and then that writers and poets were engaged in an effort to transform Christmas from the excuse for drunkenness and debauchery that it had become into a celebration of family and spiritual renewal. St. Nick was rediscovered and rehabilitated as the "Children's Friend." In 1822, Clement Clarke Moore wrote "A Visit From Saint Nicholas" (aka "The Night Before Christmas") for his six kids. For the next two centuries writers and poets added to the Santa Claus story, until he became the jolly fat red–suited gift–giver we know today.
"Rare Exports" posits that the evil Santa is the reality, the loving Santa the hoax.
The movie opens with a typically clueless corporation excavating a mountain on the Finnish-Russian border. It is thought to be the burial mound of the actual Santa Claus—a monstrously large devil–horned being trapped and buried there millennia ago. The story centers on a little boy who lives with his widowed father in the adjacent impoverished Finnish hinterland. They are part of a rural community dependent on the annual reindeer hunt for their survival. They listen with great apprehension to the ceaseless explosions coming from the mountain just inside Russian territory.
The excavating company works day and night, digging down in search of their prize. Bad things begin happening. Children begin disappearing. The entire reindeer herd is slaughtered in a single night. Only our young hero knows the truth. After seeing a horrifying "Santa" outside his window at night, trying to break in, and finding human footprints under the dead reindeer carcasses, he hits the books and finds out about the evil "true" Santa Claus—a cannibal who eats kids. Turns out the deep mining has released hundreds of these "Santa's" from their mountain captivity and they are now roaming the town at night sniffing out children to prey upon.
Turns out these "Santa's" are actually Santa's many evil elves. Santa himself looks more like Lucifer, strapped in tight at the bottom of the manmade tomb now being opened. The excavators' last discovery before their deaths: This monster Santa is still alive. Father and son must now devise a strategy for saving the lives of their fellow reindeer herdsmen and stopping the spreading Santa contagion.
"Rare Exports" is a superior horror story.
At no time is there any winking at the audience in acknowledgement of the outlandish conceit of the story. The storytelling proceeds as a serious narrative.
The absence of the cartoonishness that suffuses so many horror and action films today is a real revelation. The majesty of the cinematography sweeping across the frozen Finnish winterscape is a real thing of beauty. What a Christmas joy it is to come across a gem of a movie like this, with it's well–crafted script, it's believable performances, its beautiful setting, and its crazy story so well—told it can't for a moment be doubted.
One tends to become cynical in seeking an evening's diversion with what inevitably turns out to be just more formulaic studio product, no matter the hype otherwise. But then, one has one's faith restored in the real magic that can happen in movies by finding the occasional "Rare Exports."
Interview with Rare Exports Storyboard Artists Jarkko Naas (aka jjnaas)



You've been a member on DeviantArt for 10 years, has being part of the community helped you develop as an artist?





It has. My morning ritual still is to go through the Popular 24 hrs -gallery while having two sandwiches and a cup of tea. DeviantArt has made it easy to find new artists to follow, to stay in touch with old friends and to find fresh inspiration. Having followed for ten years what's currently popular has also taught me to recognize things that are about to become cliches, which helps not to get stuck with one style, subject or technique.






Going back to 2004, you seem to have always been comfortable as a digital artist. Is everything you work on digital or do you still like to scratch at paper once in a while?





I mostly draw with pencil and paper, but most of that is doodles sketched during meetings at work or while having a pint in a pub with friends and comic artists (there are some quite active pub-meeting comic artist groups here in Helsinki). I occasionally take out my water colours as well, and then give up. Currently I've re-discovered gouache painting. I'm working on an unnecessarily challenging gouache painting at the moment. I actually hope to finish it during the Christmas vacation.






How did you get involved in the film Rare Exports?





I spent a year learning 3D, animation and digital movie making in a place called Lapland Studio, which was located in the Northern Finland by the Arctic Circle, in a town called Rovaniemi where I also studied graphic design at the university. I had made some storyboards for some test animation project at Lapland Studio. Mika Orasmaa who was later to be the cinematographer for Rare Exports was visiting the place and saw my storyboards on the wall and liked them. I then did storyboards for some tv -adverts for him and for one other movie too he was involved in called Christmas Story (Joulutarina) before he started filming Rare Exports and brought me along. It pays to get involved with all kinds of obsucure projects, eventually one thing leads to another.






Was it only the storyboards you worked on or did you also work on the concept art as well?





I did some concept design too. The locations were already known, but they consisted of some empty buildings up in the Northern Finland. I had photos of empty rooms and plain buildings and I had to make concept art furnishing the places with props and stuff as a starting point for the set designers, and also figure out the lighting conditions and the colour palette in those places. Of course the set designers mostly ignored my ideas.






Are storyboards and concept design your favorite type of work? If not, what is?





I enjoy drawing concept art. Storyboards are always a hell of a hassle and not good for my blood pressure, so I don't do those much anymore, since I've also got my daily job at Rovio to keep me busy as well. I'd really enjoy having a decent amount of time to draw comics, since I haven't had time for that pursuit in ages.






How did you go from Rare Exports to Angry Birds?





While I was working on Rare Exports I already had a daily job at a mobile game company (this was before iPhone), so I worked on the Rare Exports storyboards in the evening, after coming home from work. They were done very speedily, no more than 10 minutes were ever spent on one panel. As the script changed the cinematographer would draw stick-man sketches of the needed storyboard panels while filming on the location in Lapland in -25 Celsius temperature. He'd then place the sketches in snow, take photos of them and send the photos to me to draw (only slightly more) proplerly. Anyway, I freelanced while working at the same in game companies, so these career paths were slightly separate. I got my game company connections via the comic artist -circles though, and many of those people were storyboard artists. Finland is quite small, various circles overlap constantly.






What is your dream project to work on next?





A proper graphic novel would be great to have out. I don't lack ideas and motivation, only time.



Jarkko's (aka jjnaas) Top Five Inspirational Deviants
Your Thoughts
Do you approve or disapprove of comforting mythical friends like Santa Claus being re–imagined as evil entities?
When was the last time you saw a truly original, well–written, well–produced, well–directed, well–acted, well–photographed horror movie (like "Rare Exports")?
Have horror movies (and action movies) become too self–consciously cartoonish in their efforts to escalate the horror and/or violence through quantity rather than quality?
Horror movies are now readily available for viewing from not only Finland, but Japan, Korea, Russia and other countries like never before. Which country is making the best horror movies, in your opinion?