Llama on the Lam
They knew there would be no escaping the security measures of the Arizona "llama ranch" where they were incarcerated, spending their days growing out their woolen coats, greatly valued by hipster trendsetters. They received no benefit from their wool, expropriated with no recompense by their rancher overlords. They were allowed to live so long as the quality of their wool remained high. But there would be no stud farm retirement. Just a visit from the llama meat vendor.
So the break for freedom would have to happen at the weakest link in "llama control."
The three comrades feigned illness to get loaded onto the trailer for a trip to the "animal therapist." Nights had been spent sneaking into the barn to chew on the trailer door lock, weakening it enough to be busted open with a single mighty llama kick. At Third and Main, Bennie kicked open the door at a red light. He and Che then hit the asphalt running. But Larry froze with fear, cowering in the trailer. The plan was to follow the freeways after dark into Mexico, and then continue south, eventually hooking up with the L.R.M. (Llama Resistance Movement) in the mountains in Peru. It was not to be. Dozens of Llama Patrol special agents appeared and converged on the rebel runners.
Bennie and Che failed this day. But their cause lives on. Their few moments of freedom in the sun will long be recounted around llama campfires.
---
Llamas have a storied history on DeviantArt.
Back in our early days supporting application skins, staff and superdeviants also spent time on Winamp, which, historically, really whips the llama's @$$. The whimsical, woolen creature easily made its way into DeviantArt's farmland, and the rest is history. In 2005, an oversized llama emoticon burst dramatically on the scene when it was added to our chat network. Everyone either loved or hated it, but one thing became clear: DeviantArt has a weird thing for llamas.
In 2010, an April Fool's event kicked off the ability for deviants to gift llama badges unto each other, because why not? Llamas have been spitting their way into the hearts of millions ever since.
To do this, visit the Profile Page of the deviant of your choice, click "Give" in the top right corner, and select "Give a Llama Badge."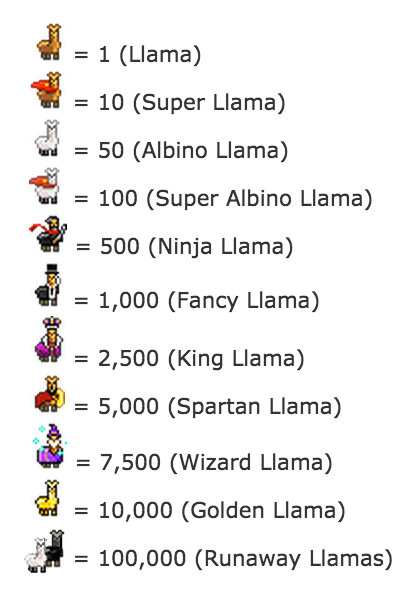 ---
---
Your Thoughts
There are now over 158,000 llamas and 100,000 alpacas in North America. Is there a logical reason for this or is this an example of a practical joke gone horribly wrong?

Bottle–fed llamas tend to spit on humans when they become adults, so bottle–feeding should be kept to a minimum. Spitting is used to keep order in llama society. Has a llama ever spit on you?